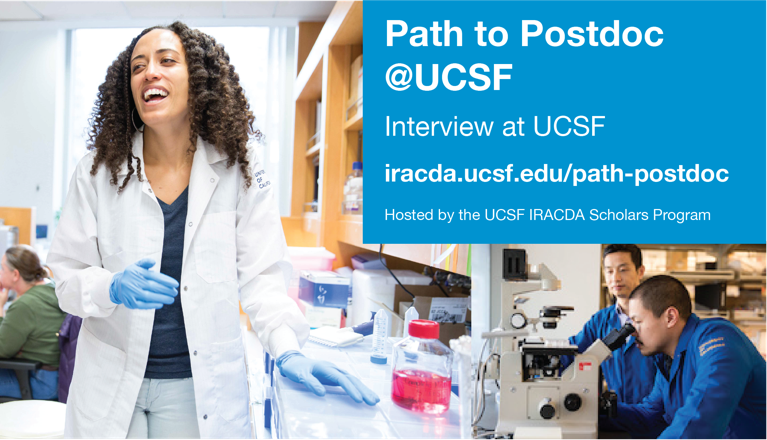 Path to Postdoc @UCSF is a unique program for outstanding senior graduate students (that will complete their PhD by the end of 2020) to be exposed to world-class research opportunities at UCSF. Students will have an opportunity to interview with faculty research mentors for a postdoctoral position in their lab, give a research presentation to faculty and the UCSF community, meet current postdocs, and experience vibrant San Francisco. Full funding for travel expenses will be provided.
Eligibility
Eligible applicants are currently enrolled in a graduate institution other than UCSF, are expected to complete their graduate work by Fall 2020, and are US citizens or permanent residents. We strongly encourage applications from students of backgrounds underrepresented in the biomedical sciences.
Sample Schedule
Day 1 – Fly in to SFO, evening workshop about how to pick a lab
Day 2 – AM interview, PM interview, evening gathering with program participants
Day 3 – AM interview, free afternoon (or PM interview), evening IRACDA scholar panel
Day 4 – Fly out of SFO
Application Requirements
1. CV with publications
2. Research interests and personal statement addressing how UCSF will enhance your career (1 page maximum)
3. Letter of support from current research advisor
4. List of 5 faculty you are interested in meeting. We strongly recommend that you initiate contact with faculty whose research interests you prior to applying to Path to Postdoc to increase chances of mutual interest. Selected participants will be contacted with guidance on faculty with whom to schedule interviews.
Important Dates
Application Deadline: February 2, 2020, 11:59PM PST
Notice of Decisions: February 10, 2020
Program Dates: March 25-28, 2020
Questions?
Anne Sufka
[email protected]
415.514.9434